Finally: New Chairs
03 December 2006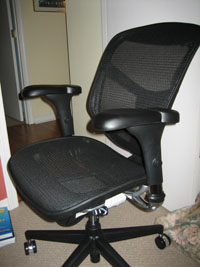 Today the search for new home office chairs ended. We chose a chair we had seen and tried the week before Thanksgiving at Office Depot. We didn't even go there that night expecting to find a chair, but once we saw a few reasonable-looking mesh chairs, we tried them.
Most of them were uncomfortable and were mesh for reasons of pure novelty. But one was surprisingly sturdy and had a lot of ergonomic features.
The chairs were on sale for $269.99, and while we were impressed, we figured we'd have a look around Atlanta that coming weekend to see if we could do better.
In Atlanta we tried Sam Flax, IKEA, and a furniture liquidator on 14th Street. The ones at Sam Flax were great (brands like Herman Miller, HumanScale, and Steelcase) but too expensive--you won't find one for less than $699. The liquidator just happened to be closed that day, but glancing through the window showed us that there wasn't that much there. IKEA was satisfactory, but their chairs are either really cheap ($35) or just as much as the ones at Office Depot ($199-299) and much less sturdy.
When we called Office Depot earlier this week they said they were out of stock and that we'd have to order them. We took a final trip down there today to make sure the chairs still felt good and give them a more thorough inspection. As it happened, they had 5 in stock and even though the floor model said $299.99, they were ringing up at the sale price. So we got them.
Features
Adjustments are made via Aeron-like levers that work via cables that run into the main housing under the seat. The levers are small and thick and made of metal.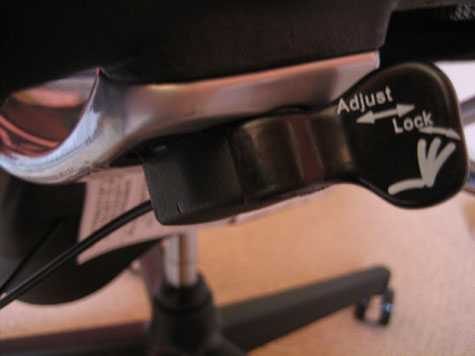 On the left side of the chair, there's a single lever that allows the seat back to recline. You can lock it in 3 positions.
On the right side, there are two levers and a tensioner rod. One lever adjusts seat height, and the other allows the seat itself to slide forward so that you can adjust seat depth. The tensioner controls the resistance you feel when you recline.
Additionally, the seat back can be lifted and adjusted for height via a ratcheting mechanism.
The arm rests are padded and height adjustable but they also pivot inward and outward which is great.
You can adjust this chair to just about any body profile. Some of the features are found only on chairs that cost 2 to 3 times as much, such as the sliding seat and pivoting arm rests.
The chair has its fair share of plastic. The base is a hard plastic as is the frame for the mesh part. But there's also a good deal of chrome on the underside. The armrests attach via steel braces to the chair's underside. The mesh fabric feels strong and has good tension.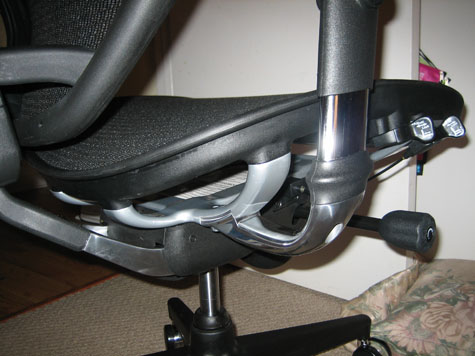 Barring them falling apart in a year, I think we're going to be really happy with these.
(pictures from this post can be seen here)