November Rain
20 February 2006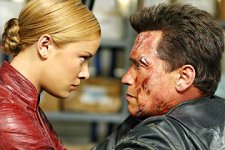 Movie comes out. Some years pass. Steven watches the movie. That's how it happened with Terminator 3 Rise of the Machines, which we caught last night on CBS. Pretty good movie, but as I watched it I kept thinking about how the movie relied on a lot of the visual effects pioneered in T2 some 12 years earlier, as well as variations on the I'll be back slogan.
I also got to thinking about how much I liked the second movie back in 1991. I saw it with my brother and cousin one night and it blew us away. Re-enactments ensued.
The movie also launched me into my early 90's obsession with Guns N Roses with You Could be Mine. I badly wanted to be able to play the drum intro to the song (and in the 80's we wanted to be Def Leppard and spent hours rehearsing Pour Some Sugar on Me using an empty 5-gallon paint drum, air guitars, and my preteen vocals).
For a couple years, the Use Your Illusion tapes were among my most played, though I think it took some time to actually save up and buy them. I used to just pick up the tape singles of the songs that were released. I got November Rain, Don't Cry, and You Could be Mine that way.