Thanksgiving 2005
27 November 2005
Feels good to get back home. Does not feel good to have a bunch of numerical analysis homework problems due bright and early tomorrow. As if I'd really do it over Thanksgiving.
We drove up Wednesday at a cautious pace as there were a lot of police out on 331. Plus, the memory of being pulled over (just a warning, from passing someone that was barely speeding) coming back home on that road was still fresh on my mind. Caught Lost on TV that night.
Thanksgiving day was nice. Ate a lot of good food and visited with all the family we could. Afterward we went to the AMC 24 and saw the new Harry Potter and followed that with Rent. We ended up getting back home around 1:30. Naturally, we didn't wake up in time for any hardcore shopping but we did still pick up a few DVD's for $3.99 and some gifts for family members.
Had an excellent time visiting stores, B&N, coffee shops, and our favorite restaurants.
Stopped in to visit Mom Friday and was happy to see Max jumping around on me. His arthritis medicine makes him do things he probably shouldn't be doing, but he can't feel it so he doesn't know.
Saturday we put Sassy into an old baby stroller and pushed her around the garage and driveway, mostly to scare her, which didn't work. She ended up fighting me to stay in the stroller. I took her "off road" through the grass and up a hill, which she liked still, but to a lesser degree.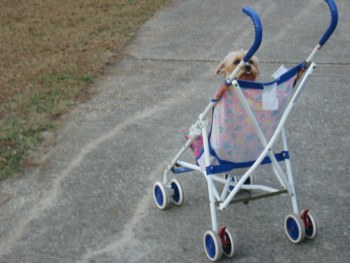 Always with the tongue out. Not sure why she liked riding backwards.